Low pressure vapour lamp = monochromatically spectrum in wavelength range 200-300 nm.
UV-C emitters are:
Long lasting (replacement of emitters approximately once a year)

Easy to install, to manage and to maintain

Environmental friendly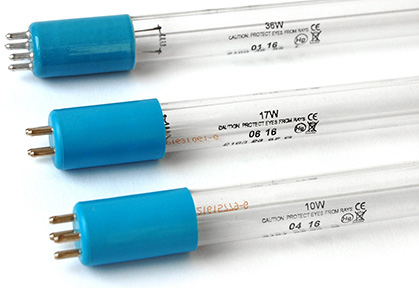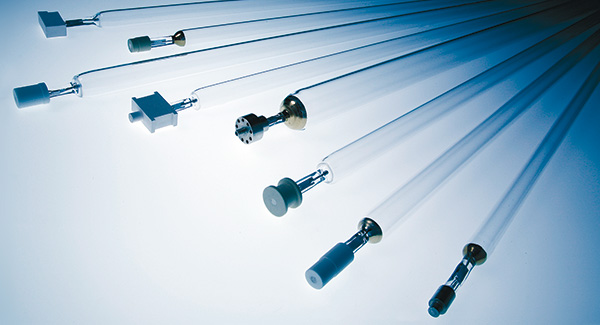 General differentiation of UV-C lamps:
Ozone free, ozone generating and intense ozone generating low pressure vapour (mercury doped).

Ozone free, ozone generating and intense ozone generating amalgam lamps.

Standard quartz or synthetic quartz.

With various mechanical features: length, diameter, socket (one-sided/two-sided) or geometry.
---
PGUVLamps

-

Replacement Components

In addition to the difference of intermediate pressure and low pressure lamps PGUVLamps has as a complete system supplier also all accessories like sheath, sensors etc. in their assortment. Technical requirements require constant service and replacements to keep their operational readiness up. A fast and reliable availability as well as the highest quality of the components are indispensable.

Along with the above mentioned emitters we also deliver system accessories and components which are required to operate the UV equipment.
- Immersion tubes / module
- electronic power supplies / ballasts
- sensor systems and electronics

40 year of experience and development in production of UV lamps!